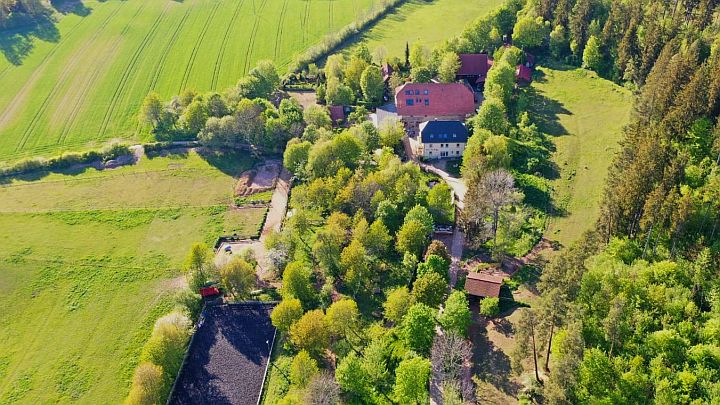 Arrival – Route planner – Weather
Directions
Google knows us. Simply enter our address in your navigation system:
Stallegg 1, 79843 Löffingen-Göschweiler
You can find us on the web or in Google Maps under "Hof Stallegg"
For our tech-savvy guests using a GPS, our geo coordinates:
47.857007, 8.291792 oder +47° 51′ 25.23″, +8° 17′ 30.45″
Arrival on foot
Very important for all of you arriving at our farm by foot – it is essential that you pay attention to the signs and not miss the path out of the gorge leading up to our house!
From the Schattenmühle there is a small waterfall on the right approx. 200 m after the Stallegg Bridge, where a path leads uphill to the Stallegg ruins. This path leads directly to our farm (approx. 600 m).
If for some reason you should find yourself at the river power plant (Flusskraftwerk), you have gone too far. Turning around here will make finding our farm less complicated.
We would kindly ask our trekking guests to register beforehand so we can make sure to be home and can welcome and familiarise you with the place. Thank you!
With the car
Our farm is located in a remote area in the middle of nature. There is no through traffic, making our farm the ideal place for your family vacation! We are however very accessible by car:
Approach via the A5: Exit Freiburg-Mitte from the autobahn, then take the B31 towards Donaueschingen, exit Rötenbach from the B31 to Göschweiler
Coming from the A81: Take the Bad Dürrheim or Geisingen exit from the autobahn, then take the B31 towards Freiburg, take the Löffingen exit, then towards Göschweiler.
In the center of Göschweiler at the bus stop / at the fountain you then drive straight down the Stalleggerweg down the valley. After about 1km through fields and corridors you will arrive at the farm.
Arrival by train
In Freiburg, Hauptbahnhof, change to the Höllentalbahn in the direction of Donaueschingen (regional traffic). If necessary, change in Titisee to Donaueschingen. Get off at the Löffingen train station. From there, take the bus to Göschweiler and get off at the Käsekeller ("cheese cellar") in the center of the village. From there it is about 1 km on foot to the house.